Introducing you to the Spring Garden Project – a wonderful project undertaken by The Burdekin Association and Oceanic Landscapes, and funded by The Northern Sydney Primary Health Network's (PHN) Natural Disaster and Extreme Weather Program.
Background
Burdekin's Youth Housing Program currently support ten Tibetan and other Culturally and Linguistic Diverse (CALD) young people aged 16-24 years residing in our short term and transitional housing at a residential property in Manly.
These young people have experienced substantial trauma in their young lives, many currently experience Post Traumatic Stress Disorder (PTSD), anxiety and depression and currently live in a community setting with small studio rooms and shared bathrooms.
Luckily there is a small garden area, however it was severely damaged by recent floods and unsafe for use and unpleasant to look at.
About the grant
The objective of the grant was to develop a community wellbeing project that strengthens social connectedness and resilience. Due to the impact of the severe weather conditions on the Northern Beaches the Northern Sydney PHN made available grants to increase delivery of community wellbeing and mental health supports through activities that strengthen social connectedness, resilience and wellbeing for communities in response to extreme weather events.
Goal
Burdekin successfully applied for funding from The Northern Sydney PHN to lighten up the lives of these young residents, to enhance their spiritual wellbeing and build resilience, and to show that you can overcome the risks of poor health outcomes and step into a level of mindful positivity – a safe space. Access to a peaceful garden provides opportunities to gather socially together or with family and friends, to take time out to read, practice yoga, meditate, garden or undertake other wellbeing activities.
Project
Our goal was to replace overgrown vegetation, remove dead grass, replace with new soil and grass, remove/fix unsafe pathway, place drainage, and install low maintenance blooming plants with a variety of ground cover. Our landscaper Oceanic Landscapes also installed items to enhance the garden such as a garden bench, Bali style artifacts, a tree of life wall feature, a Buddha head planter and various other art works. The young residents were consulted in the design to incorporate their ideas, creating a sense of belonging and connectedness to the space.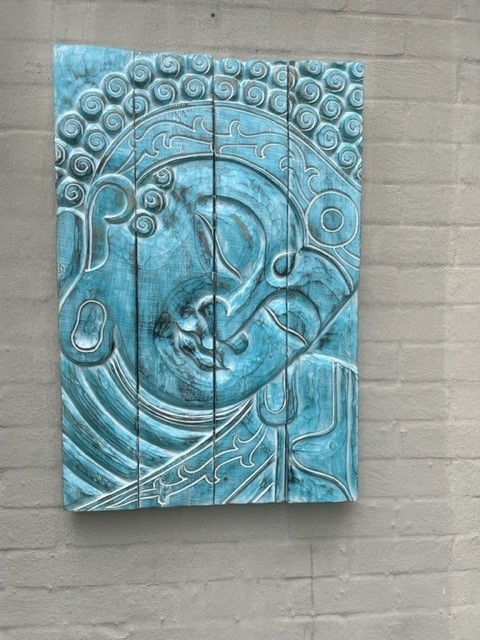 Working Bee
A working bee was organised with the community and young residents to remove old furniture – leaving a blank space for the landscaper.
Result
The transformation is amazing – Oceanic Landscapes went above and beyond for our residents in creating a welcoming, safe space to be enjoyed by everyone. Community-led initiatives such as these are fundamentally important to wellbeing and we would like to thank our funders The Northern Sydney PHN for the opportunity and Oceanic Landscapes for completing our vision with such care and commitment.